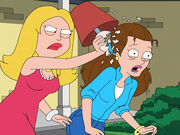 Widowmaker

Season:

3

Episode Number:

49

Directed By:

Bob Bowen

Written By:

Keith Heisler

Originally Aired:

Febuary 17th, 2008

Proceded By:

Followed By:

DVD Commentary Available:

Yes
A.) Story
Edit
B.) Story
Edit
Characters
Edit
Random Facts
Edit
This episode marks one of Stan's apparent radical transformations, although this one is just an elaborate ruse.
This episode features Roger Smith: Pretend Psychiatrist, who is an early incarnation of Dr. Penguin.
Clip Clop provides Roger with yet another opportunity to play dress-up and helps Stan to (pretend to) work out his emotional issues through role-playing.  Win-win.
"Never cry over a whore, Steve!"  (crying)  "Momma!!"
Ad blocker interference detected!
Wikia is a free-to-use site that makes money from advertising. We have a modified experience for viewers using ad blockers

Wikia is not accessible if you've made further modifications. Remove the custom ad blocker rule(s) and the page will load as expected.