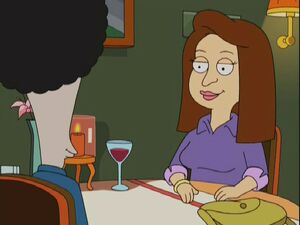 Sharri Rothberg

First Episode:

An Apocalypse to Remember

Voiced By:

Lisa Edelstein

Relatives:

Mr. Rothberg (father)

Mrs. Rothberg (mother)
 
Buckle (husband)

Character
Edit
Sharri is a Jewish woman whom Roger conned into marrying him so that he could register for a blender. At the end of the episode, he leaves her and she ends up with Buckle. The two lived in the woods until finally moving into the Smith's neighborhood. She is a shrill and demanding woman.
Facts about Sharri
Edit
Sharri becomes personally offended when people mispronounce her name
Sharri has had "some" work done on her nose
Sharri was so desperate to marry that she didn't bother getting to know any of her suitors
Sharri is jealous of an owl
The ticking of Sharri's biological clock is making her neurotic
Sharri was mortified when Stan shat in her pool
Sharri's mother and father will go to great lengths to please their little princess
Sharri is one of the many people who tried to collect the $50,000 bounty on Hayley
Episode Appearances
Edit
An Incident At Owl Creek
100 A.D.
Best Little Horror House in Langley Falls
Ad blocker interference detected!
Wikia is a free-to-use site that makes money from advertising. We have a modified experience for viewers using ad blockers

Wikia is not accessible if you've made further modifications. Remove the custom ad blocker rule(s) and the page will load as expected.