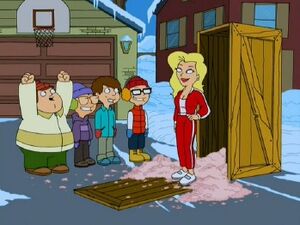 Of Ice and Men

Season:

2

Episode Number:

30

Directed By:

John Aoshima

Written By:

Brian Boyle

Originally Aired:

November 26th, 2006

Proceded By:

Followed By:

DVD Commentary Available:

Yes
A.) Story
Edit
B.) Story
Edit
Steve, Snot, Toshi and Barry are sent a mail order russion bride instead of the binoculars they orderd. At first all goes well untill Hayley convinces her not to have sex with them until one of them marries her. They have a contest to decide which one of them will, and Snot wins. However Toshi learns Russian and wins her over at the last minute.
Pop Culture References
Edit
The title is reference to the book "Of Mice and Men" by John Steinback.
The scenes of Klaus telling the story to his nephew is an homage to the film "The Princess Bride"
.
Characters
Edit
Connections With Other Episodes
Edit
In "Merlot Down Dirty Shame" Roger reminds Francine of Stan's secret figure skating.
Ad blocker interference detected!
Wikia is a free-to-use site that makes money from advertising. We have a modified experience for viewers using ad blockers

Wikia is not accessible if you've made further modifications. Remove the custom ad blocker rule(s) and the page will load as expected.