==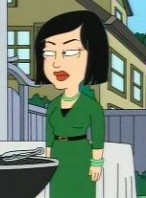 ==
Character
Edit
Mrs. Yoshida is the mother of Toshi Yoshida and Akiko Yoshida. Stan and Francine both can't understand her, even though she speaks perfect english.
She is a proficient in the art ninjutsu, being perfectly able to sneak into the house and flawlessly incapacitate both
Episode Appearances
Edit
Best Little Horror House in Langley Falls
Spelling Bee My Baby
In "Spelling Bee My Baby", Mrs. Yoshida admits that she doesn't speak Japanese, while admitting why her son does.
Ad blocker interference detected!
Wikia is a free-to-use site that makes money from advertising. We have a modified experience for viewers using ad blockers

Wikia is not accessible if you've made further modifications. Remove the custom ad blocker rule(s) and the page will load as expected.