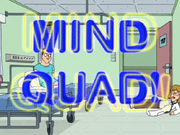 Mind Quad is one of American Dad's split personalities. Beginning with the AD episode
In Country...Club
, Mind Quad veers into the territory of action dramas of yesteryear (Knight Rider, Renegade, A-Team, Incredible Hulk, etc).
Mind Quad follows the adventures of John Q. Mind. He used to be the greatest soldier in America, until his arms and legs got blown into his mind. This gave him telekinetic powers over the space that used to be occupied by his limbs, allowing him the mobility he had before the accident. Johnny escaped from a veterans hospital, and is on the run from...?
Along the way, Johnny met a quadriplegic boy named Jimmy Boombox, who was framed and also on the run. Together they travel around, doing good deeds in small towns across America.
Episode Appearances
Edit