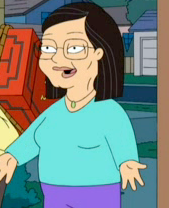 Character
Edit
Mama Ling is the adoptive mother of Francine Smith. When Francine was given up at the airport as a baby Mama and Baba adopted her. Before she could be officially adopted she had to live in a Catholic orphanage for a few years. Mama doesn't like to pay for long distance and would rather phone someone and then tell them to call her back. She also always hangs up first. Francine loves her for loving her unconditonally, while Stan finds her intrusiveness annoying.
Episode Appearances
Edit
Ad blocker interference detected!
Wikia is a free-to-use site that makes money from advertising. We have a modified experience for viewers using ad blockers

Wikia is not accessible if you've made further modifications. Remove the custom ad blocker rule(s) and the page will load as expected.