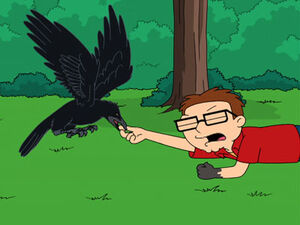 Big Trouble in Little Langley

Season:

3

Episode Number:

46

Directed By:

John Aoshima

Written By:

Rick Weiner and Kenny Shwartz

Originally Aired:

November 4th, 2007

Proceded By:

Followed By:

DVD Commentary Available:

Yes
A.) Story
Edit
B.) Story
Edit
Baba brings Steve fireworks, which he uses to try and attract Lindsey Coolidge who is turned on by reckless behaviour. He ends up getting his thumb blown off, and all the kids abandon him. At the end when the house burns down Roger leaves him for the ambulance where he gets his thumb reattached. Lindsey comes by to let him feel her breasts, but his hand is numb and he can't feel anything.
Characters
Edit
First Appearances
Edit
Ad blocker interference detected!
Wikia is a free-to-use site that makes money from advertising. We have a modified experience for viewers using ad blockers

Wikia is not accessible if you've made further modifications. Remove the custom ad blocker rule(s) and the page will load as expected.