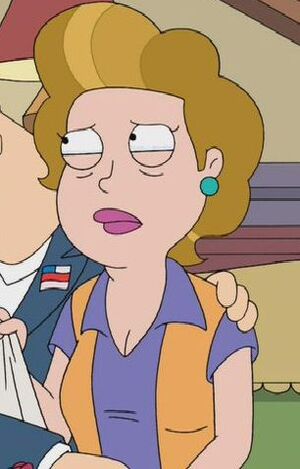 Betty Smith

First Episode:

Odipal Panties

Voiced By:

Swoosie Kurtz

Relatives:

Stan Smith (son)

Jack Smith (ex-husband)

Hercules (husband)
Character
Edit
Betty is the mother of Stan Smith. When Jack left them, they bonded more then ever feeling they where all eachother had. But when Betty started dating again Stan got jelouse and kidnapped all of her boyfriends on the third date and dumps them on a deserted island, when Stan tries to do the same thing to Hurcules Betty tells him they don't need to depend on each other anymore, and goes to Greece to marry Hurcules.
Episode Appearances
Edit
Ad blocker interference detected!
Wikia is a free-to-use site that makes money from advertising. We have a modified experience for viewers using ad blockers

Wikia is not accessible if you've made further modifications. Remove the custom ad blocker rule(s) and the page will load as expected.