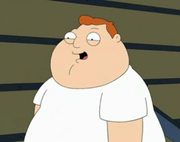 Barry Robinson

First Episode:

Voiced By:

David Herman

Profession:

Student

Age:

14

Relatives:

a mother

a father

a sister
Personality
Edit
Barry is an evil genius if he doesn't take a certain pill. The pill mentally disables him and keeps him in a calm state. Stan always insults him. Stan then gasps and says sorry, saying that it came out of nowhere.
He's adopted
Facts about Barry
Edit
Barry has a thing for Miss Piggy
Barry once attended a weight-loss camp with Peter and Chris Griffin in the Family Guy episode Killer Queen
For Barry, being stupid can be painful
Barry found out the hard way that his puppy couldn't fly
Barry has a surprising awareness of the "all is lost" moment that usually precedes an Act II break
Barry once summoned a demon from an Ouija board
Barry can spot the difference between a plate and a platter
Barry got too old to be in his uncle's secret basement movies
Barry's hair poofs into an afro when wet
Barry wonders who Matt Berry is
Barry's parents are into S & M bondage
Barry referrs to his anti-psychotic medication as 'vitamins'
Barry was almost crushed by folding gym stands
Barry's evil voice sounds a lot like Craig Ferguson doing an impression of Gary Oldman
Barry has pretty serious diabetes
Barry drinks his own semen
Barry always forgets that "the stove is turned on."
Episode Appearances
Edit
A Pinata Named Desire
You Debt Your Life
I Am The Walrus
Licence to Till
Jenny Fromdabloc
Homewrecker