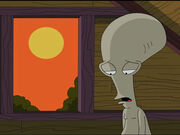 A.T. the Abusive Terrestrial

Season:

2

Episode Number:

35

Directed By:

Joe Daniello

Written By:

Dan Vebber

Originally Aired:

Febuary 11th, 2007

Proceded By:

Followed By:

DVD Commentary Available:

Yes
A.) Story
Edit
Yes
B.) Story
Edit
Francine and Stan find out that there favorate soft drink, Mr. Pibb, is being discontinued so they steal the Pib mobile and travel across the city getting signatures so that the company will keep making the drink. The company soon finds out and tracks down Stan and Francine. They don't listen until the real Mr. Pibb comes and tells them that the soft drink doesn't matter, it's who you drink it with.
Pop Culture References
Edit
Much of the episode is a parody of the movie "ET" including the title.
The song Roger sings is a parody of the song "When Somebody Loves You" from "Toy Story 2".
Characters
Edit
Ad blocker interference detected!
Wikia is a free-to-use site that makes money from advertising. We have a modified experience for viewers using ad blockers

Wikia is not accessible if you've made further modifications. Remove the custom ad blocker rule(s) and the page will load as expected.